Spring 2014
Thanks to everyone who came to a Spring 2014 Quiltaway!
Congratulations to Sonia from the May 2nd Weekend!
She is the winner of a free M&J's Quiltaways weekend in the "How Many Pins in a Pint" Contest! Her guess was 489. The correct number was 486
Download additional Pin-on Labels for Spring 2014 Mystery Clues
Please check Materials List to download your copy.
Fall 2014
The Fall dates are listed below. Check you calendar, the spots have been filling up quickly.
Quilt away the weekend with us!
Bring some friends or come by yourself, either way come and spend the weekend at our quilter's getaway retreat! Every season of M&J's Quiltaways brings an all new original mystery quilt pattern. The patterns are designed to be enjoyable for both beginners and experienced quilt makers. So join us in beautiful Lancaster County PA for a fun-filled quilter's getaway!
Exciting New Location!
Starting last fall we began hosting our Quiltaway weekends at Stoltzfus Bed and Breakfast at The Fassitt Mansion, a beautiful and historic bed and breakfast that overlooks the Amish countryside. Just a few miles away from the village of Intercourse, the Lancaster County bed and breakfast overlooks scenic farmland and is within close distance of local quilt and fabric shops. We are very excited about this new and improved location and hope you are too!
Mystery Quiltaway Includes: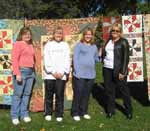 2 nights in a beautiful Lancaster, PA Bed and Breakfast
Delicious meals
All clues and instructions for Mystery Quilt
Mystery revealed with most quilters completing the surprising quilt top by the end of the weekend
Free time for shopping and exploring local quilt and fabric shops
Surprises, Prizes and FUN
Fall 2014
Spring 2015
Sept 5-7
4 spaces
April 17-19
12 spaces
Sept 19-21
full
April 24-26
12 spaces
Oct 3-5
full
May 1-3
12 spaces
Oct 17-19
1 space
May 15-17
12 spaces
Oct 31-Nov 2
full
May 29-31
12 spaces
Nov 14-16
6 spaces
June 5-7
12 spaces
&nbsp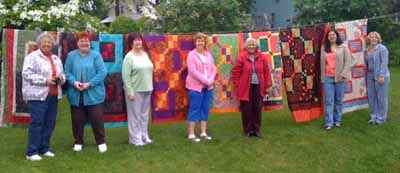 Mystery Quiltaway Weekends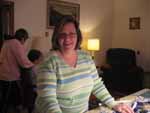 M&J's Quiltaways offers an exciting quilter's weekend retreat, where all levels of quilters are given the opportunity to make a mystery quilt among the company of friends in a lovely, cozy environment. Mystery quilt weekends include a two-night getaway at a beautiful and historic Lancaster County, PA Bed and Breakfast, delicious country meals as well as free time for shopping and exploring local quilt and fabric shops. Quilters receive all clues and instructions for the mystery quilt throughout the quilt retreat weekend, and the mystery quilt is revealed when most quilters complete the quilt top at the end of the weekend. This quilter's getaway is like a quilter's slumber party and includes prizes and surprises throughout the course of the retreat.
Last Modified:7/28/2014